UNB/OSCO Construction Group strategic partnership lays the groundwork for building the future
Author: UNB Newsroom
Posted on May 12, 2021
Category: UNB Fredericton , myUNB , UNB Saint John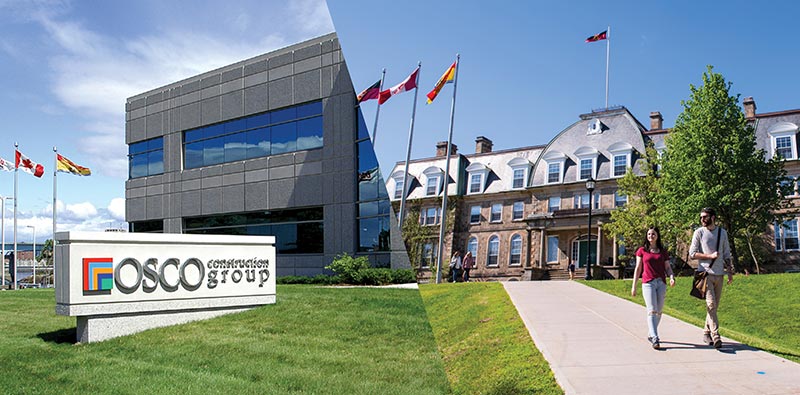 The University of New Brunswick and Saint John-based OSCO Construction Group are celebrating nearly two years of a strategic partnership that has established a solid foundation for future success.
The OSCO Construction Group is a collection of companies operating in the concrete, steel and construction fields. They serve a variety of markets throughout Canada, the Eastern U.S., and the Caribbean.
Since its official creation in 2019, the partnership has created valuable advantages for both organizations by making it easier for UNB and OSCO to collaborate on shared initiatives and to identify and capitalize on opportunities through regular contact.
The UNB-OSCO partnership is built with a goal of achieving mutually beneficial outcomes across multiple areas of interest. These touchpoints include enriching student learning and co-op placements, creating employment opportunities, enhancing industry and research engagement, and supporting increased alumni and employee engagement. Through this engaged relationship, both organizations can better come together in support of their strategic priorities.
"Our ability to achieve the positive social change, the research and innovation excellence and the increased economic impact we seek is significantly enhanced by effective, multilayered collaborations such as this one," said Dr. Paul J. Mazerolle, UNB president and vice-chancellor. "Our partnership with OSCO has already borne many positive results, and we look forward to building on this success moving forward."
OSCO and its employees have offered valuable learning experiences for UNB students and faculty through guest lectures, professional development panels, mentoring opportunities, technical site tours and opportunities for experiential co-op placements and employment.
To retain the best and brightest UNB graduates in New Brunswick, the OSCO group offers competitive employment opportunities to UNB's students, who, in turn, bring their high-quality education and training. OSCO has recruited increasing numbers of UNB students and graduates to help grow the provincial economy. Currently, OSCO's senior leadership team are almost all UNB alumni, and a majority of the organization's engineers have completed degrees at UNB.
"Our ongoing partnership with UNB has been a great investment for the OSCO Construction Group," said Hans Klohn, president of OSCO Construction Group. "By having continuous interaction between our employees and UNB's students, we have benefited in numerous ways. Several exciting research projects are underway, students are immersed in our operations and new ideas are always on the table for discussion. We couldn't be more pleased with our UNB connection."
As New Brunswick's comprehensive research university responsible for 70 per cent of all sponsored research in the province, UNB has identified supporting private sector research and innovation as a strategic priority. OSCO's founding partnership and financial support of the Off-site Construction Research Centre (OCRC) at UNB contributes to this priority, and to solidifying advanced manufacturing as an area of strength for UNB, and a priority area for industry.
The OCRC seeks to transform the construction industry by creating alternatives to conventional on-site construction. It also facilitates the active engagement of UNB master- and postdoctoral-level researchers in several long-term projects at three OSCO Construction Group companies. The centre has seen success in raising the profile of off-site construction in the Atlantic region and beyond, and works with local companies to grow this field in New Brunswick.
Strategic partnerships like the UNB-OSCO one highlight some of the many overlapping ways that UNB is closely connected with the people, organizations, and industry in its communities, and how working together can create mutual insight, success and opportunities for growth.