UNB has a key role in advancing N.B.'s digital transformation
Author: Dr. Paul J. Mazerolle
Posted on May 19, 2021
Category: UNB Saint John , myUNB , UNB Fredericton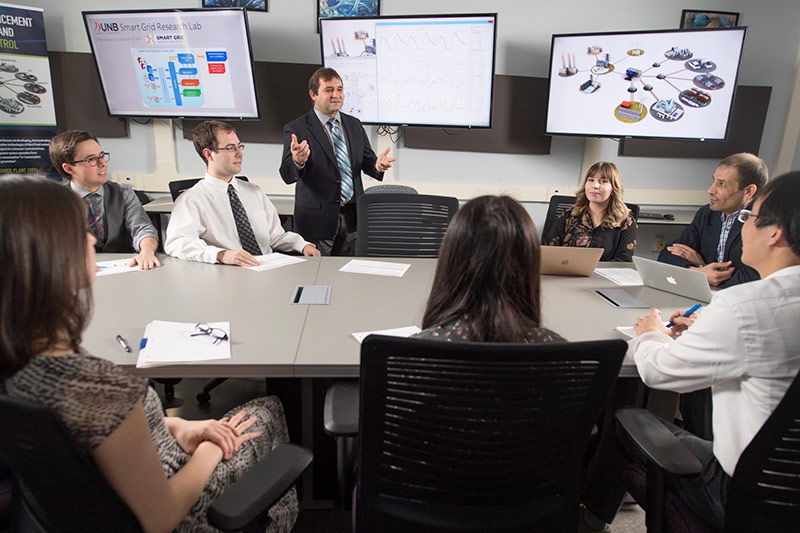 The COVID-19 pandemic has reshaped all aspects of our lives in the same way digital technology has altered how we socialize, work, learn and play. Across Canada and beyond, digital technology is simply embedded into our daily lives now. The pandemic will come to an end, but our use of digital technology will endure and accelerate. Those who embrace it will enjoy new levels of prosperity, progress and resilience.
Here in New Brunswick, we have an incredible opportunity for digital transformation to grow our economy and raise our standard of living. The University of New Brunswick will be a crucial player in feeding New Brunswick's emerging technology ecosystem by bringing together academia, government, industry and the community to collaborate in this ambitious yet imminently achievable transition. After all, this isn't new. New Brunswick has done it before. We will do it again.
New Brunswick has a track record of using technology to create opportunities, enhance competitiveness and drive social change. UNB has played a central role in this ongoing story. Home to the first standalone faculty of computer science in Canada, we have nurtured talent and ideas in the digital space for decades.
As one of Canada's most entrepreneurial universities, UNB is a platform for startups and applied research, turning knowledge into opportunities. Some of the most successful technology in New Brunswick's history was created by digital companies that were started and nurtured at UNB.
UNB is home to nationally and internationally recognized researchers and organizations including the ground-breaking Canadian Institute for Cybersecurity that apply innovative approaches and technologies to some of the most significant challenges of our time.
Of course, it's not only our computer scientists who are thriving and innovating. Technology is transforming every faculty and field from the humanities to forestry and engineering. UNB's Centre for Nuclear Energy Research collaborates internationally on applied research on small modular reactors. Our Smart Grid Research Centre is at the forefront of new technology that is transforming conventional power grids.
Digital transformation is about more than technology and not limited to computer scientists.
Through field-based research, our marine biologists embrace high-resolution thermal drones to open new avenues for data collection to help protect North Atlantic right whales. To drive innovation in our health care sector UNB is establishing a research chair in digital health to foster new delivery modes for health services and support. UNB has established a research chair in digital information law and policy to explore the range of legal dimensions and challenges that are emerging as our lives operate across multiple digital contexts.
The necessity for expanding our collective focus to drive digital innovation and transformation cannot be over-stated. We must go beyond business and industry to strengthen health care, foster better access to education and educational outcomes, overcome poverty, bolster our democracy and more. A digitally transformed New Brunswick will span our urban and rural communities and help to strengthen our common purpose.
So, what will it take to move the needle for New Brunswick in the digital space? It will require renewed vision, commitment, resources, as well as a coactive approach to working in partnership to advance this important repositioning effort.
UNB's core mission is to serve the public good, to build a better world for our province and its people. We see digital transformation as the surest path for New Brunswick to secure a prosperous and progressive future. We stand ready to do our part.
Dr. Paul J. Mazerolle is the 19th president and vice-chancellor of the University of New Brunswick.