UNB hosts virtual public dialogue: Shaping the Debate
Author: UNB Newsroom
Posted on May 6, 2021
Category: UNB Fredericton , UNB Saint John , myUNB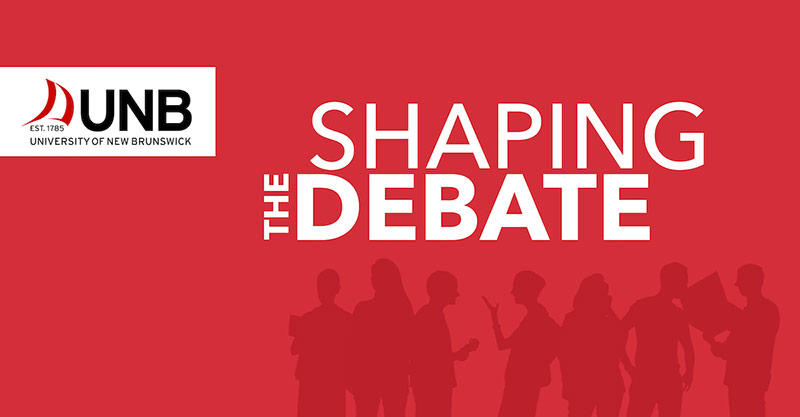 The University of New Brunswick held a virtual public dialogue to discuss the province's biggest health care challenges and contribute to the development of a five-year provincial health plan that is responsive to patients, providers and communities, now and into the future.
"We know that New Brunswick faces significant challenges that may affect the quality of life and overall community well-being," said Dr. Paul J. Mazerolle, UNB president and vice-chancellor. "As New Brunswickers, we are invested in the success and sustainability of our health care system. We have an opportunity to contribute to innovative solutions that will help shape and support health care in our province."
UNB Shaping the Debate: A Sustainable Future for Health Care in New Brunswick took place on Zoom. More than 600 participants registered for the event, which featured a panel of seven speakers involved in the areas of health and research in the province, as well as a keynote by the Hon. Dorothy Shephard, New Brunswick's Minister of Health.
During the event, the public had the opportunity to share their experiences and exchange views which will be considered by the Province of New Brunswick and UNB throughout the health care reform process to ensure positive action is made.
"The future of our health care system depends on the actions we take in the coming months," said Hon. Dorothy Shephard. "I genuinely look forward to working with New Brunswickers to forge a path forward towards safe, sustainable health care for all."
Dr. Petra Hauf, vice-president of UNB Saint John, was also a speaker at the event. She presented the university's plan for the Integrated Health Initiative.
"UNB has a bold and strategic vision for health education and research, coupled with social innovation and greater collaboration, that will contribute to systemic health care reform," Dr. Hauf said.
To learn more about the state of health care in the province and what initiatives are currently underway to improve the system, read the Province of New Brunswick's discussion paper on the future of health care in New Brunswick.
Shaping the Debate is a series of conversations that UNB will have with the public to help move forward economic growth, social development and sustainable health care in New Brunswick.
Media contact: Kathleen McLaughlin