UNB senior teaching associate's case study places 10th on bestsellers list
Author: UNB Newsroom
Posted on May 26, 2021
Category: myUNB , UNB Saint John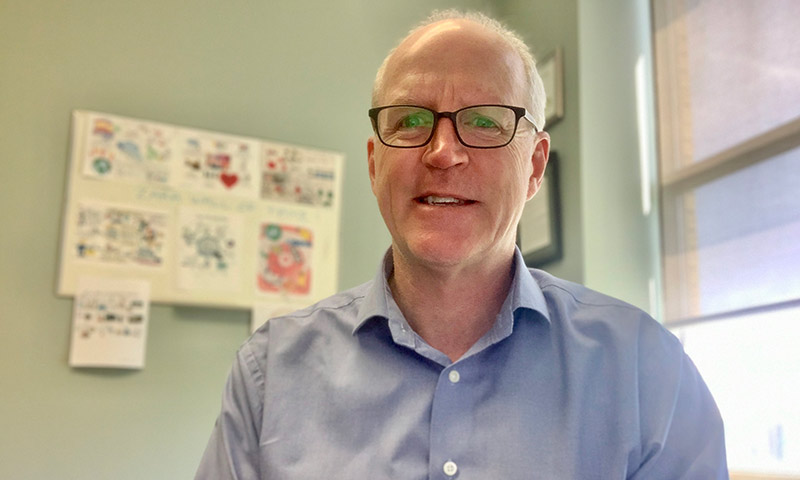 A University of New Brunswick senior teaching associate's case study, What Business Is Zara In?, was a bestseller this year through its Canadian distributor Ivey Publishing.
Daniel Doiron, who teaches with the faculty of business on UNB's Saint John campus, has a passion for writing case studies and uses them in all his undergraduate and graduate level courses as an experiential education tool.
Experiential education is a form of teaching instructors use to combine authentic experiences with method and theory taught in the classroom.
Doiron's case study What Business Is Zara In? was written for his fourth-year undergraduate capstone course and master of business administration course, strategic management, in 2014. After revising the study in 2019, this past year it earned the 10th place on Ivey Publishing's bestsellers list and will be distributed at conferences around the globe.
"Case studies allow students to apply the knowledge they learn in the classroom to real-world scenarios in an engaging and fun way," says Doiron. "Zara uses a unique approach with their business model and through our class case discussions, my students learn about the unique competitive advantages business models can bring to a business."
This is the fifth case study Doiron has published with Ivey Publishing. The publishing company distributes through other suppliers, such as Harvard Business Publishing, where Doiron's case studies can also be found. This particular case study has also been translated into Mandarin and made available through numerous strategic management textbooks globally.
"I was inspired to write this study from an old Zara case focused on technology adoption in Zara's retail operations," says Doiron. "I was most interested in using it to help students understand the important notions surrounding Zara's disruptive business model."
"I use elements of experiential education in all my courses," says Doiron. "We have had a lot of fun with the Zara case. For example, as part of an assignment I ask the students to draw an original picture of Zara's business model. Over the years I have placed some of these into the 'Zara Business Model Wall of Fame.' Students are always excited and proud to make this wall of fame."
All five of Doiron's case studies can be found on Ivey's and Harvard's publishing websites, including his more recent studies which focus on the changes taking place in the auto industry such as, General Motors and the Electric Car Revolution: Boom or Bust? and What Business is Rivian in?
Media contact: Kathleen McLaughlin