Engineering students work with Kingsclear First Nation on capstone design project
Author: UNB Newsroom
Posted on Apr 9, 2021
Category: myUNB , UNB Fredericton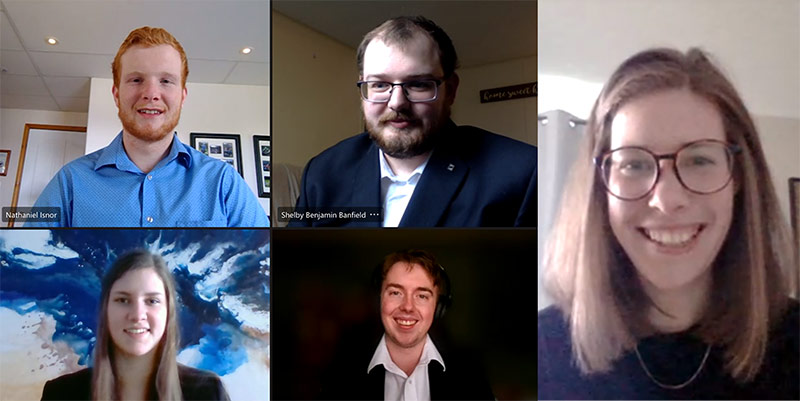 The University of New Brunswick's faculty of engineering in Fredericton hosted its 7th annual Engineering Design Symposium virtually on Thursday, April 8, recognizing the hard work of its students.
Each year, fourth-year engineering students from all disciplines display projects they've worked on through the Capstone Design course. Students are guided by industry mentors and their professors to gain hands-on experience by creating real designs for clients.
One of the groups who showcased their work included civil engineering students Kari Anderson, Shelby Banfield, Zackariah Gallant, Nathaniel Isnor and Isabel Loewen.
The team worked with the Wolastoqey community of Kingsclear First Nation (KFN) on a plan to expand municipal infrastructure to accommodate housing for their growing community. The design included a subdivision layout, road system, trail network, water distribution system, sanitary services and stormwater analysis.
"There is a changing demographic in the community and a need for a diversified housing investment," says Ms. Anderson. "Our plan has taken into consideration their goals and to this end we hope to accommodate an additional 100 housing options to meet the considerations of their population base."
The group visited Kingsclear First Nation with their client and a KFN representative for a tour of the community to gain an understanding of their needs and see the existing infrastructure firsthand.
"Limited housing investment occurred in the early 2000s in our community. As we grew, our ability to invest increased through economic growth and we saw renewed focus on housing given the substantial need," says Councillor Derek Solomon, Director of Public Works for Kingsclear First Nation. "Over the past 10 years we constructed a new subdivision and filled it with over 20 new homes. This process helped us realize that we need to consider different housing options to address our changing demographics. We were excited at the opportunity to work with UNB's engineering students to see what innovative solutions they proposed for our community."
"I really enjoyed meeting with our client and discussing ways we can help accommodate the needs of this community, while keeping in mind the final outcome they desire," says Mr. Isnor.
See the winning groups from this year's symposium.
Media contact: Kathleen McLaughlin