Bell Let's Talk boosts funding for post-secondary student mental health
Author: UNB Newsroom
Posted on Apr 21, 2021
Category: UNB Fredericton , UNB Saint John , myUNB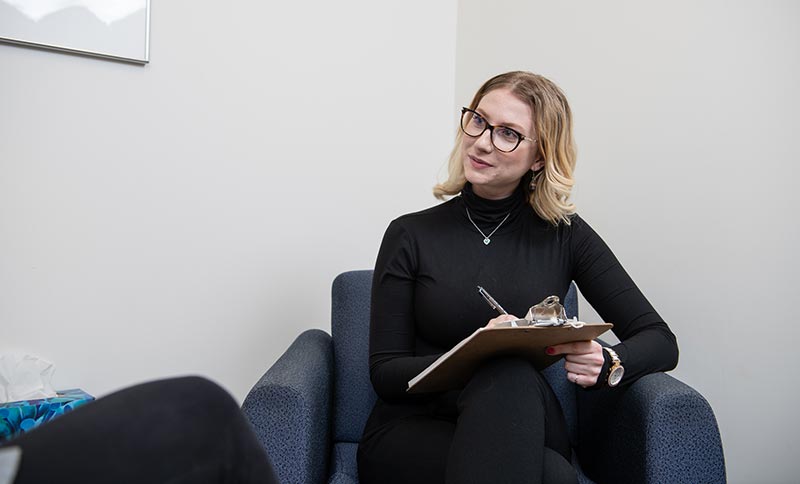 Bell Let's Talk announced that $3,075,000 in grants from the Bell Let's Talk Post-Secondary Fund has been awarded to 123 Canadian colleges and universities, including the University of New Brunswick, to support them in the initial implementation of the National Standard of Canada for Mental Health and Well-Being for Post-Secondary Students.
"Bell is committed to enhancing student mental health and we are pleased to see so many post-secondary institutions apply for funding. We had such a great response that we increased funding from $2.5 million to over $3 million so all the schools who applied could accelerate the important work they are doing to support student mental health and well-being," said Mary Deacon, Chair of Bell Let's Talk. "Our support continues with more funding coming later this spring for schools looking to implement new initiatives aligned with the Standard."
In June, Bell Let's Talk will launch a second phase of the Post-Secondary Fund with implementation grants for institutions that have used the Standard to identify specific gaps or needs in their mental health support services and are building new initiatives to address them.
The Standard provides a set of guidelines for post-secondary student mental health that helps increase awareness, reduce stigma, improve life and resiliency skills, and create a healthier and safer educational environment overall. Bell Let's Talk funding helped enable the creation of the Standard, led by the Mental Health Commission of Canada (MHCC) in partnership with the Canadian Standards Association (CSA).
According to the 2019 National College Health Assessment, around 16% of students have seriously considered suicide, and almost 3% attempted suicide in the past year. Over the past year, COVID-19 has affected students at every post-secondary institution in Canada.
"If the COVID-19 pandemic has taught us anything, it's that taking care of our mental health is essential. That's especially true for students, who, even in the best of times, find themselves at a critical point in their lives, making tough decisions that will shape the rest of their careers, often in the face of uncertain outcomes," said Denise Amyot, President and CEO, Colleges and Institutes Canada. "That is why the National Standard of Canada for Mental Health and Well-Being for Post-Secondary Students is so important. It is a valuable resource for colleges and institutes as they strive to promote mental health and support their students as best they can."
"We are delighted to receive a $25,000 grant from the Bell Let's Talk Post-Secondary Fund to implement two exciting programs. Both programs were developed by our Student Mental Health Task Force, an inclusive and diverse group of faculty, staff, students and community leaders working to review student mental health and well-being," said Paul J. Mazerolle, President and Vice-Chancellor of the University of New Brunswick. "The first program will focus on enhancing our campus mental health service providers' knowledge in the areas of truth, reconciliation, allyship and culturally responsive care. The second program will use multimedia approaches to empower our BIPOC students to share their voices to provide guidance to ensure mental health services are more accessible and effective."
See the complete list of universities and colleges that received a $25,000 kickoff grant.