UNB receives funding to further intensify SMR cluster participation
Author: UNB Newsroom
Posted on Mar 19, 2021
Category: myUNB , UNB Saint John , UNB Fredericton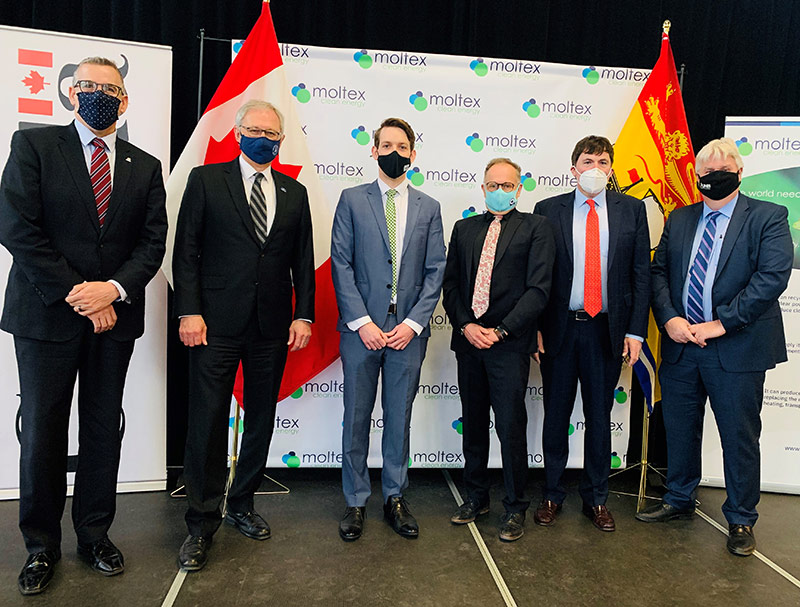 The University of New Brunswick's Centre for Nuclear Energy Research (CNER) has received new federal funding to support standards validation and intensified partnership opportunities. The funds will support CNER's ongoing Small Modular Reactor (SMR) research cluster work.
The funding was announced on March 18, as part of a $56-million Government of Canada funding bundle provided through Innovation, Science and Economic Development Canada (ISED) and the Atlantic Canada Opportunities Agency (ACOA). UNB will receive $561,750 from ACOA in support of developing a quality management program that meets national nuclear certification standards, and to boost the CNER's partnership capacity in research and innovation by engaging an innovation officer.
"This funding contribution to CNER comes at an opportune time," says Dr. William Cook, professor and chair of nuclear engineering, and director of UNB's CNER. "With our engagement in the SMR cluster over the past two years, and with other expanding activities and partnerships, providing assurances that the work performed meets nuclear standards is essential. Additionally, as the CNER continues to grow, an innovation officer will play a key role in engaging with industry partners, government laboratories and research scientists."
Moltex Energy Canada Inc., an existing UNB partner in SMR research, will receive $50.5 million from both ISED and ACOA, through the Strategic Innovation Fund and the Regional Economic Growth through Innovation program.
This contribution will help Moltex develop a Stable Salt Reactor – Wasteburner (SSR-W) that will produce emissions-free energy using the WAste To Stable Salts (WATSS) process that recycles existing used nuclear fuel to produce clean energy. This technology has the potential to reduce storage needs for existing used nuclear fuel and could lead the way in establishing a first-of-its-kind, world-class clean-energy system for Canada and the world.
"With today's funding, and the additional $20 million in funding for ARC Clean Energy previously announced by the Province of New Brunswick, Canada takes another bold step forward in leading SMR development around the world," says Dr. Paul J. Mazerolle, UNB president and vice-chancellor. "UNB is proud to provide research expertise and educational offerings needed to make this vision a reality. It reflects our ability and desire to contribute to resolving society's greatest challenges, and to creating a more sustainable future for New Brunswick, for Canada and for the world."
NB Power, also an existing UNB partner and cluster participant, will receive nearly $5 million from ACOA in support of demonstration site preparation at its Point Lepreau facility.
The New Brunswick SMR research cluster was announced in June 2018 with an initial $10 million in provincial funding. UNB's participation as a research and education partner has been supported by both companies. Funding from ARC Clean Energy was announced in February 2019, and in April 2020, Moltex, UNB and Canadian Nuclear Laboratories (CNL) announced a collaboration agreement and funding for fuel research through CNL's Canadian Nuclear Research Initiative.
Media contact: Jeremy Elder-Jubelin
Photo: (From left) His Worship Don Darling, Mayor of Saint John-Rothesay; The Hon. Blaine Higgs, Premier of New Brunswick; Mr. Rory O'Sullivan, CEO, Moltex Energy Canada Inc; Mr. Wayne Long, Member of Parliament for Saint John-Rothesay; The Hon. Dominic LeBlanc, President of the Queen's Privy Council for Canada and Minister of Intergovernmental Affairs; Dr. Paul J. Mazerolle, UNB President and Vice-Chancellor. Credit: ACOA.