UNB professor develops pioneering population genomics book series
Author: UNB Newsroom
Posted on Mar 4, 2021
Category: myUNB , UNB Fredericton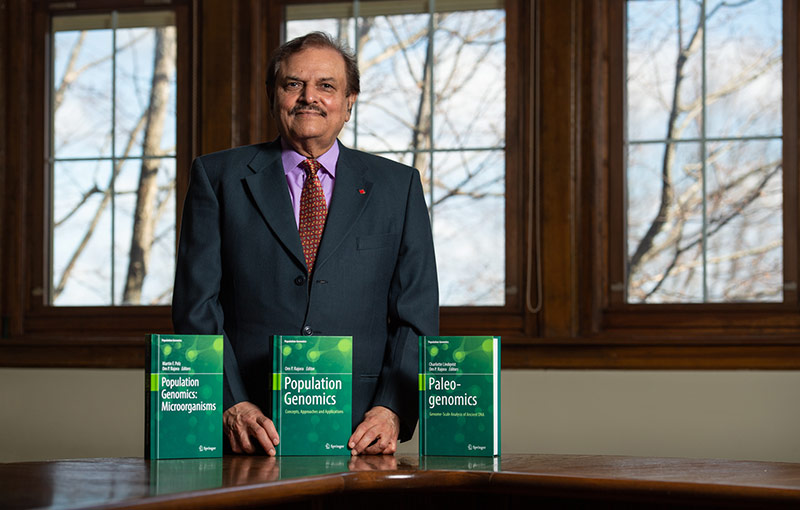 A professor and researcher at the University of New Brunswick has developed and is in the process of publishing a pioneering series of books encompassing the world of population genomics. The book series is being published by Springer Nature, and since January 2019 the books and individual chapters have been downloaded thousands of times.
Dr. Om Rajora is the editor-in-chief of Population Genomics, the world's first book series to discuss the concepts, approaches and applications of population genomics to address a variety of fundamental and applied questions in a variety of organisms. He serves as the editor or co-editor on all books and co-author of key chapters.
"Population genomics has revolutionized population, evolutionary, ecological and conservation genetics, plant and animal breeding, human health, genetic medicine and pharmacology by allowing us to address novel and long-standing intractable questions and providing key insights with unprecedented power and accuracy," says Dr. Rajora.
A genome is an organism's complete set of DNA, including its genes. Genomics studies the structure, function, variation, evolution and editing of genomes. Population genomics studies genomes on a larger scale, comparing genomic variation of entire populations and associating genes, genetic variants and genomic regions with many traits, such as diseases and evolution.
To date, the first five books in the series have been published: The first three were released in January 2019, the fourth in January 2020 and the fifth in December 2020, with more in the works. Those published so far have received high recognition worldwide and the series has become internationally well-renowned. The publisher also identifies the book series as "Renowned" or "Eminent."
Chapters from all published books have been widely cited.
The first book, Population Genomics: Concepts, Approaches and Applications, by Om P. Rajora, was ranked as #5 of the best 17 genomics books to read in 2019, #3 of the best 14 bioinformatics books to read in 2019, #14 of the best 46 genetics books to read in 2019, and among the best 99 bioinformatics books of all time by the Book Authority. To date this book and its chapters have been downloaded 48,000 times.
The second book, Population Genomics: Microorganisms, by Martin F. Polz and Om P. Rajora was ranked #8 of the best 29 genomics books to read in 2019 and #13 of the best 46 genetics books to read in 2019 by the Book Authority. It has 13,000 downloads as of today.
The third book, Paleogenomics: Genome-scale analysis of ancient DNA, by Charlotte Lindqvist and Om P. Rajora, has been widely recognized by scholars worldwide and has 17,000 downloads and 156 mentions to date.
The fourth book, Population Genomics: Marine Organisms, by Marjorie Oleksiak and Om P. Rajora, has been used to solve the world's greatest challenges by being among the top used publications to address one or more of the United Nations Sustainable Development Goals (SDGs).
The fifth book, Population Genomics: Wildlife, by Paul A. Hohenlohe and Om P. Rajora, was ranked #1 of the 20 best genetics books to read in 2021by the Book Authority.
"The books in my pioneering Population Genomics series provide invaluable and enormous resources for the global population genomics community and are suitable for broad readership, including upper-level undergraduate students, graduate students, research scholars, and professionals and experts in the field. I am happy with the high recognition and high profile the books have garnered. I strive to achieve high ethical and academic standards and a superb quality of work," says Dr. Rajora.
Population genomics is a fast-emerging and fast-moving discipline that can affect every aspect of life. The science is used in plant and animal breeding, population management, conservation, studying the effects of climate change, forensics, and human health and medicine.
"Overall, population genomics is tremendously advancing our understanding of nature and life. It has immensely advanced our understanding of genetic and genomic diversity, evolution, demography, phylogenetic relationships of extant species and between living and extinct species, ecology, speciation, domestication, climate acclimation and adaptation and genetic basis of ecologically and economically important traits.
"Population genomics approaches have enabled identification of genes and genetic variants associated with many disease conditions in humans. Paleogenomics in combination with genome editing is being used in de-extinction projects to recreate extinct species, like the passenger pigeon and woolly mammoths."
The books were first introduced at the annual Plant and Animal Genome Conference in San Diego and have been lauded by scholars around the world. Dr. Rajora, a global expert in population and conservation genomics, has been leading international workshops on this and other genomic topics for decades.
"I was first approached for this series in 2008 because of my expertise and, following a pioneering population and conservation genomics workshop that I have been organizing annually at the Plant and Animal Genome Conference since 2007, I began the project in 2016," says Dr. Rajora. "Now five books are completed with many more to come. We have several volumes in progress including Population Genomics of Humans, Crop Plants, Forest Trees, Insects, and Museum and Herbarium Collections, and Single Cell Genomics. Population genomics advances fast and information always needs to be updated to be relevant."
Dr. Rajora joined UNB Fredericton's faculty of forestry and environmental management in 2005 as professor and Senior Canada Research Chair (Tier 1) in Forest and Conservation Genomics and Biotechnology.
"These books would not have been produced without hard work and excellent contributions of my co-editors and many internationally leading and emerging scholars. I would like to thank them for their superb contributions."
Media contact: Kelsey Pye
Photo credit: Cameron Fitch/UNB