MacNutt Memorial Lecture delves into emotional history of Atlantic Canadian political economy
Author: UNB Newsroom
Posted on Feb 12, 2021
Category: UNB Saint John , myUNB , UNB Fredericton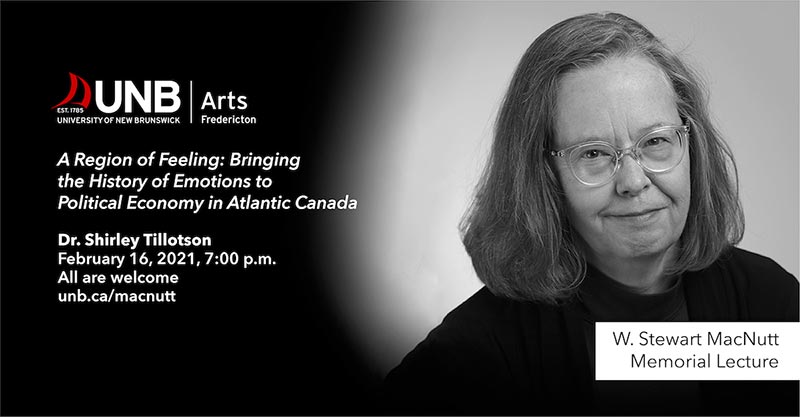 In a region where strong feelings are often mixed into the cool scientific voice of political economy, would Atlantic Canada benefit from developing a history of emotions?
Dr. Shirley Tillotson asks this question and will present her research at UNB's W. Stewart MacNutt Memorial Lecture on Feb. 16.
Atlantic Canada's historiography combines political economy with a mix of other rhetorical tones: righteous anger, elegiac affection, and, often between the lines, grief and resentment.
Dr. Tillotson, professor emeritus and Inglis professor at Dalhousie University and University of King's College, will discuss the Atlantic region's economic relationship to slavery in the Caribbean and the emotional culture shaped by that relationship.
Dr. Tillotson's most recent book, Give and Take: The Citizen-Taxpayer and the Rise of Canadian Democracy, has received numerous awards, including the Governor General's History Award for Scholarly Research in 2019.
This year's MacNutt Memorial Lecture will be held virtually via Microsoft Teams and is accessible at unb.ca/macnutt.