UNB mental health strategist encourages the community to connect as part of Bell Let's Talk Day
Author: UNB Newsroom
Posted on Jan 28, 2021
Category: UNB Fredericton , UNB Saint John , myUNB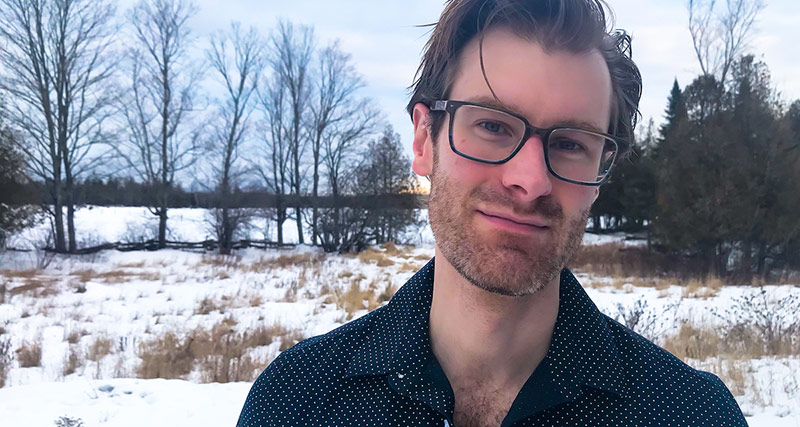 Over the past year, the world has changed. The impact of COVID-19 has been felt across the globe and has drastically changed the way we live, study, work and socialize.
On Jan. 28, UNB mental health strategist Matthew MacLean joins millions of Canadians in recognizing the importance of talking about mental health as part of this year's Bell Let's Talk Day.
"The entire world has been impacted by the pandemic, with everyone experiencing challenges of some sort that can generate anxiety and worry," says MacLean. "It's more important than ever that we spend time working on our mental health and well-being, and for many, the first step toward this is to share how we are feeling.
"Fear, worry and stress are normal – we are hard-wired to look for threats and react to them. However, we don't want to get into a cycle of anxiety which can cause us to exaggerate and catastrophize what's going on.
"The good news is that humans are capable of incredible adaptability and resilience, something which we can unlock by talking. By sharing our worries with others, we can get a perspective check. Bell Let's Talk Day is a good opportunity to remind ourselves to begin a discussion and share how we're feeling. When things are shareable, they're manageable."
With physical distancing now a part of daily life and many UNB students studying by alternative delivery methods, the way in which social interactions take place has changed. Since the start of COVID-19, UNB has worked to adapt its mental health services to be able to offer support to students virtually.
"Being part of a community and the sense of belonging that comes with it is fundamental for good health. As we are currently unable to maintain our social connections with physical interactions, we need to take steps to reach out virtually," says MacLean.
UNB Counselling Services on the Fredericton campus run a peer support service which offers students the chance to connect with a trained peer about issues they may be facing or to answer questions about university life.
"This isn't a counselling service," says MacLean. "It allows students to connect virtually with other students who are trained in supportive listening, providing an opportunity to talk and share – the first step to maintaining good mental health."
On the Saint John campus, students have access to online student support platform Real Campus.
"Our partnership with Real Campus allows students to get support beyond typical business hours," says Sheldon MacLeod, director of UNB Saint John Student Services. "It is a 24/7 service that helps students in all areas of university life, whenever they need to reach out."
UNB Counselling Services also recently launched a new guide for staff and faculty aimed at helping them support the well-being of students being taught by alternative delivery methods.
"The new guide builds on the lessons learned last term concerning the student experience during the present pandemic," explains MacLean. "It highlights how important communication is, whether that is reaching out to students, encouraging engagement, building a community or showing compassion – open communication is fundamental to supporting each other during this time."
To mark Bell Let's Talk Day, UNB Counselling Services have developed a social media campaign that will be shared online throughout the day. The series of short video clips allows students, staff and faculty to share some of the practices they undertake in order to support their own mental well-being.
"We hope that this campaign will generate conversation and will be a step toward normalizing conversations around mental health and wellbeing," adds MacLean.
Media contact: Fiona Hendrie
Photo: Matthew MacLean