New UNB Nursing Chair to support Indigenous health and nurses
Author: UNB Newsroom
Posted on Jun 19, 2020
Category: UNB Fredericton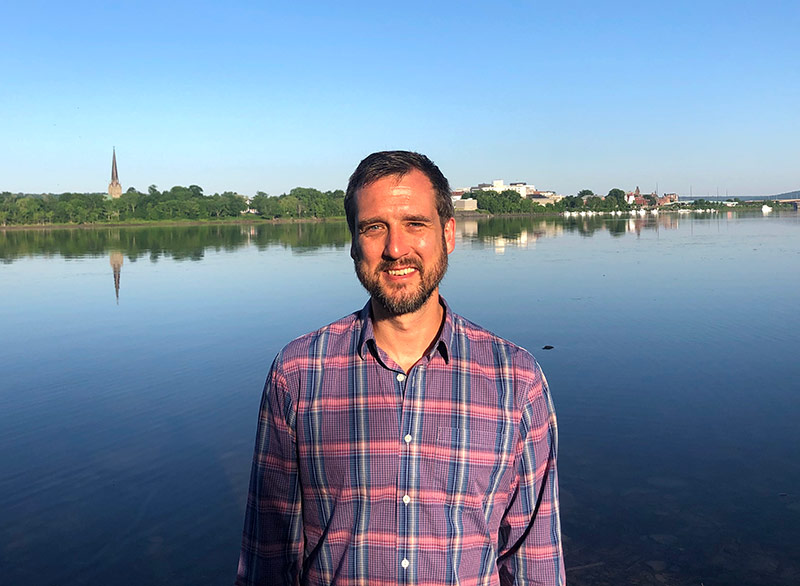 A recent investment of nearly $1 million from the Canadian Institutes of Health Research (CIHR), the New Brunswick Health Research Foundation (NBHRF) and the Canadian Nurses Foundation will enable the University of New Brunswick's faculty of nursing to gain capacity in the field of Indigenous health, focused on strengthening relationships, forming new community partnerships and improving opportunities for Indigenous Peoples to study nursing in the province.
Dr. Jason Hickey is an associate professor in the faculty of nursing at UNB Fredericton and one of six recently announced Indigenous Research Chairs in Nursing across Canada. He began his five-year tenure as chair on Oct. 1, 2019.
Since starting at UNB in 2017, he has been working closely with the Under One Sky Friendship Centre on a number of initiatives, providing both formal and informal support for the health and wellness priorities identified by the centre's staff. This support has included securing funding and research assistants to evaluate programs, providing insight and advice on funding applications, and working with a team to pilot a knowledge exchange camp.
Dr. Hickey holds a BSc (Hons.) in psychology from Dalhousie University, an MScA in Nursing from McGill University, and a PhD from the School of Nursing, Midwifery and Social Work at the University of Manchester (UK). He has also received certification from the Grounded Theory Institute (USA) and a Harrison McCain Young Scholar Award from UNB.
The CIHR-led program provides $985,000 over five years in funding for each of the six nursing chairs across Canada. The annual amount includes $100,000 to offset the chair's salary, as well as $85,000 to support research, education, mentoring and knowledge translation, and $12,000 to fund a trainee working with the chair.
Recognizing the systemic inequalities that have resulted in a continuing underrepresentation of Indigenous nurses, the faculty of nursing, in collaboration with the vice-president (academic)'s office, have allocated an additional investment to support Indigenous graduate study in nursing. Approximately $72,000 has been allocated to fund two master's candidates and one PhD candidate, who are being supervised by Dr. Hickey.
Engaging closely with organizations including the Under One Sky Friendship Centre, the Atlantic Indigenous Mentorship Network, the Atlantic Friendship Centre Network, and with students and nurses, Dr. Hickey will support nursing with Indigenous communities across four priority areas. These priority areas were developed with the aim of better enabling Indigenous nurse researchers to move into leadership roles in the future.
Dr. Hickey's first important task as chair was to establish an Indigenous Advisory Council, which is working towards a charter to guide his work and ensure its accountability, relevance and cultural safety. The council and other stakeholders will be active partners in identifying needs, opportunities and solutions that contribute to a more equitable and accessible health services system.
Additionally, Dr. Hickey will work to advance Indigenous nursing in Atlantic Canada through mentorship and capacity-building. These activities will include promoting and supporting the recruitment and retention of Indigenous nurses; providing leadership in building networks that will improve health service delivery by sharing best practices, identifying and reducing barriers and finding opportunities for sustainable program delivery; and building Indigenous research and community engagement capacity at UNB and across the province.
Dr. Hickey will also undertake a research program focusing on health promotion, program development and program evaluation. These activities will build on Dr. Hickey's previous work at UNB.
One early success with Under One Sky since assuming the role of chair was a successful grant application, enabling the centre to develop a land-based education curriculum for children with special needs. Dr. Hickey supported the development of the application and will lead an evaluation of the program.
Media contact: Jeremy Elder-Jubelin
Quotes
"Jason has been an incredible ally for our Centre, and an example of what academic advocacy and allyship looks like. His community-driven approach – asking us what we need, instead of telling us what he wants and his commitment to supporting our initiatives – continues to be a mutually beneficial relationship for us and for our community. Through his work, and the involvement of his graduate students, we're able to bring attention to a community that has often been forgotten: urban, off-reserve Indigenous Peoples. I look forward to continuing our partnership with him and I hope that he can serve as an example for how other researchers can help our voices be heard, on campus and off." - Patsy McKinney, Executive Director, Under One Sky - Monoqonuwicik-Neoteetjg Mosigisig Inc.
"As a non-Indigenous person, this award comes with a great amount of responsibility. There is a long history of white academics taking advantage of Indigenous people and communities, and because of this many Indigenous people distrust research and researchers. I have been fortunate to establish relationships with a number of Indigenous leaders, whom I consider friends and mentors and who endorsed my application for this award. My work as Research Chair will be in service to these mentors, others I have yet to meet and the communities they represent. I enter the role acknowledging my position of power as a white, PhD-prepared, nursing professor, and will work to leverage it by mentoring Indigenous students and allies so they can take over this important work, while continuing to educate myself about how to best support the strengths and resources present in Indigenous communities." - Dr. Jason Hickey, Indigenous Research Chair in Nursing and Associate Professor, Nursing, University of New Brunswick
"As we celebrate National Indigenous Peoples Day this weekend, we have an opportunity to reflect on our ongoing commitment to truth and reconciliation as well as the important ongoing work to advance a more equitable and inclusive community. Dr. Hickey's project will work to increase the participation of Indigenous nurses throughout Atlantic Canada, as well as support their retention and leadership development, which is of crucial importance for the community." - Dr. Paul Mazerolle, President and Vice-Chancellor, University of New Brunswick
"Today, we celebrate nursing practice and research excellence in our faculty, while recognizing the ongoing work that remains to strengthen capacity in Indigenous health and knowledge. The Indigenous Research Chair in Nursing is part of our commitment to make nursing education a reality for more Indigenous Peoples. This Chair is a concrete, yet aspirational, step for us to improve opportunities for community members to influence nursing knowledge and education, to shape health care in New Brunswick and to see nursing as an increasingly attainable career option for Indigenous students." - Dr. Lorna Butler, Dean of the Faculty of Nursing (Fredericton), University of New Brunswick.
"NBHRF is proud to support Dr. Hickey's research that will develop knowledge and best and wise practices in the area of Indigenous health nursing, create opportunities and the will for nurses and trainees to engage in Indigenous health nursing leadership and provide mentorship and training for students. His contribution to the health research enterprise in New Brunswick will be significant." - Leah Carr, Interim CEO, New Brunswick Health Research Foundation
"Since 2009, the Canadian Nurses Foundation, in partnership with other organizations, has funded Indigenous nursing education and research that has helped close to 200 Indigenous nurses and nursing students learn, investigate and advance innovation and leading healthcare practices in response to the needs of Indigenous communities. CNF is very pleased to partner on this initiative and to support training and capacity development for Indigenous nurses to work in collaboration with other Indigenous health researchers. Dr. Jason Hickey's research goals of engaging Indigenous youth, improving access to care, and building Indigenous research capacity truly align with CNF's commitment to Indigenous nursing and communities." - Christine Rieck Buckley, CEO, Canadian Nurses Foundation