UNB researchers examine the impact of cumulative lifetime violence on men's health
Author: UNB Newsroom
Posted on Mar 21, 2019
Category: UNB Fredericton , myUNB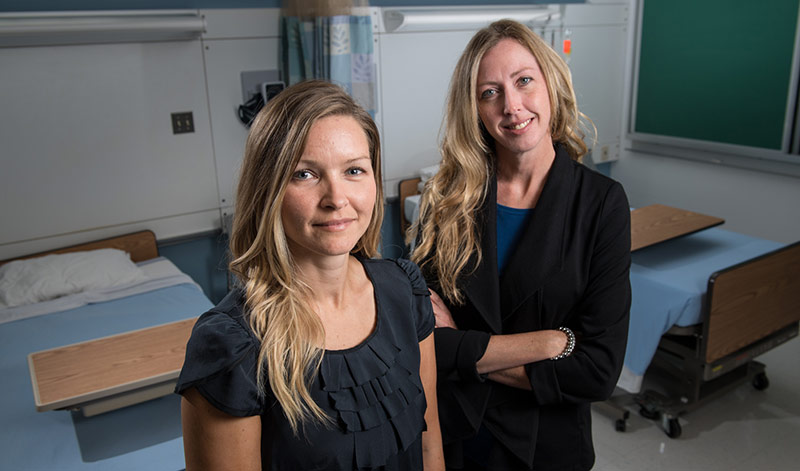 Violence is widespread in men's lives, yet how interpersonal violence impacts men's health has received little attention in the health care and service communities.
Researchers from the faculty of nursing at the University of New Brunswick Fredericton conducted one of the first comprehensive studies of cumulative lifetime violence severity (CLVS) among men. Dr. Kelly Scott-Storey and Dr. Sue O'Donnell, associate professors, along with Dr. Judith Wuest, professor emerita, examined how exposure to violence as both a target and a perpetrator over the span of lifetime affect men's health.
"We found that men who experienced higher lifetime violence had more chronic health problems and higher rates of clinically significant symptoms," says Dr. Scott-Storey. "We need to explore how men take care of their health and how gender might influence relationships among violence and health."
Men are typically perceived as perpetrators of violence and not targets. To address the limitations in measuring the effect of violence on men's health, the researchers carried out the New Brunswick Men's Violence, Gender and Health Study and published their findings in the International Journal of Men's Social and Community Health.
In the sample size of 590 New Brunswick men, 82 per cent reported experiencing violence as both a target and a perpetrator. According to Dr. Scott-Storey, this suggests how pervasive violence is in their lives. Men with higher CLVS had significantly poorer health and suffered from symptoms of anxiety, depression, post-traumatic stress disorder and chronic pain than men who experienced lower lifetime violence.
Men with higher cumulative lifetime violence severity were found to be more likely to be unemployed and unable to work due to disability. They were also more likely to experience difficulty living on their current income. Overall, the participants reported higher averages of hazardous alcohol intake and daily cannabis usage compared to the Canadian average.
"We need to examine the patterns of men's lifetime violence to develop ways to help men prevent and manage the effects of lifetime violence," says Dr. Scott-Storey. "Our findings suggest the need for health care professionals to consider past and ongoing trauma from violence as a contributor to men's health."
Media contact: Paisley Sibbald
Photo credit: Rob Blanchard/UNB