Smart Skin Technologies set to launch new golf product
Author: Communications
Posted on Apr 26, 2013
Category: UNB Fredericton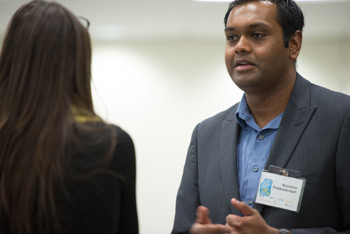 UNB-born business, Smart Skin Technologies of Fredericton has been working with a major golf club manufacturer to help launch Quantifeel - a new product that tests the pressure points on a golfer's grip throughout the swing.
Founder and CEO Kumaran Thillainadarajah said in an interview with entrevestor.com that they hope the deal will be finalized in a couple days and Quantifeel will be available in golf stores by the end of the year.
A native of Sri Lanka, Thillainadarajah started Smart Skin in 2008 through the UNB faculty of business administration's Activator Program as a student in the Technology Management and Entrepreneurship program offered through UNB's Dr. J. Herbert Smith ACOA Chair in Technology Management and Entrepreneurship Centre. He wanted to create a pressure-sensitive skin that could serve as a second touchpad on a smartphone. Since then, they've expanded to the areas of sports training and industrial packaging. 
Quantifeel will be used to help golfers choose the right grip when they're buying golf clubs. Thillainadarajah knows his biggest challenge will be in marketing the new product.
In an interview with entrevestor.com, Thillainadarajah said they'll need to educate the market and let players, coaches and retailers know the importance of the grip in a golf swing and the new-found ability to measure it. He's hoping his product will spread quickly knowing golfers are always on the lookout for the next big thing to advance their game.
Thillaindarajah would like to see it in thousands of stores within the next 12 to 18 months.
Smart Skin has been working with UNB's Institute for Biomedical Engineering—one of the world`s top facilities for prosthetics.
Activator Program
At least one new start-up per year has been launched in New Brunswick since the Activator Program launched in 2007. The Atlantic Canada Opportunities Agency (ACOA) was one of the donors that made the Activator Program possible and they continue to provide funding today - including direct funding to Smart Skin Technologies.
Now in its sixth year of operation at UNB, aside from SmartSkin, the Activator Program has resulted in several start-ups including: GreenLight Geomatics, KnowCharge Inc. and SceneSharp.
For more information contact Liz Lemon-Mitchell.