kyle
Posted: May 21, 2018 12:00:00 AM ADT
Category: Thesis Corner
---
---
Maggie Ward "We Have Stuff Enough in Us to Get Better": Healing through Truth Telling in Contemporary Indigenous Women's Literature Date: May 23, 2018 Time: 1:00pm Location: Carleton Hall, Room 304 Abstract Through its analysis of Rudy Wiebe and Yvonne Johnson's Stolen Life: The Journey of a Cree Woman, Katherena Vermette's The Break, and Teacey Lindberg's Birdie, this thesis explores the ways in which Indigenous women's literature works as both a medium of historical and contemporary truth...
---
kyle
Posted: May 21, 2018 12:00:00 AM ADT
Category: Thesis Corner
---
---
Arya Hakimian A Green Chemistry Approach to the Synthesis of Zinc Oxide Photocatalysts Using Bipolar Electrochemistry Date: May 22, 2018 Time: 1:00pm Location: Toole Hall, 303 Abstract The demand for sustainable and efficient clean energy alternatives have become increasingly apparent in recent years due to the adverse environmental and economic effects incurred by climate change. Solar thermal renewable technologies in the form of solar cells are among some of the most researched in this...
---
Kyle
Posted: January 8, 2018 6:00:00 AM AST
Category: News and Events , Thesis Corner
---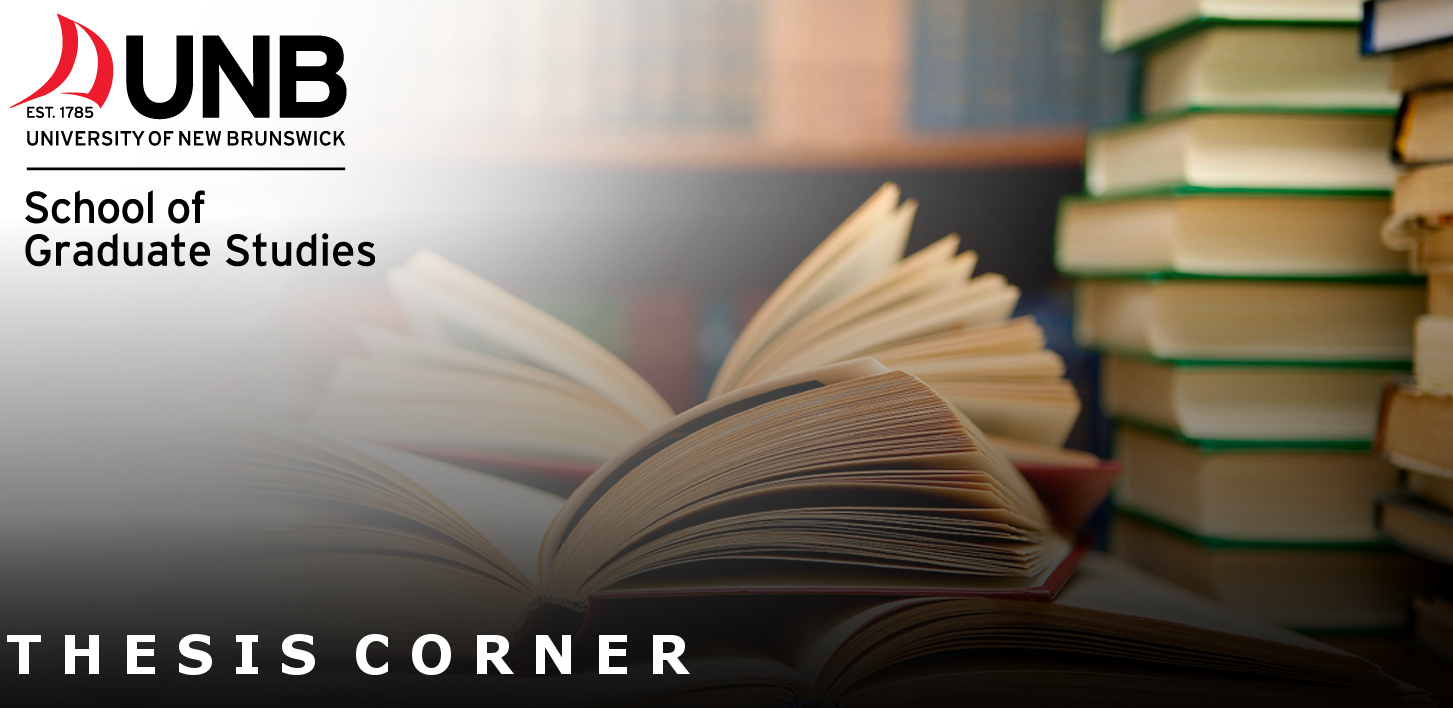 ---
The School of Graduate Studies is excited to announce the addition of a new section to the blog! Thesis Corner Thesis Corner will be a way to announce upcoming thesis proposals and defences happening on both the Fredericton and Saint John Campuses. Each post will include the thesis abstract, along with the time and location of the presentation to allow students, faculty, staff and the public to attend should the topic pique their interest! Stay tuned for upcoming posts, which will appear as...
---