2023 National Geomatics Competition
Author: Spenser Sawler
Posted on Mar 17, 2023
Category: Students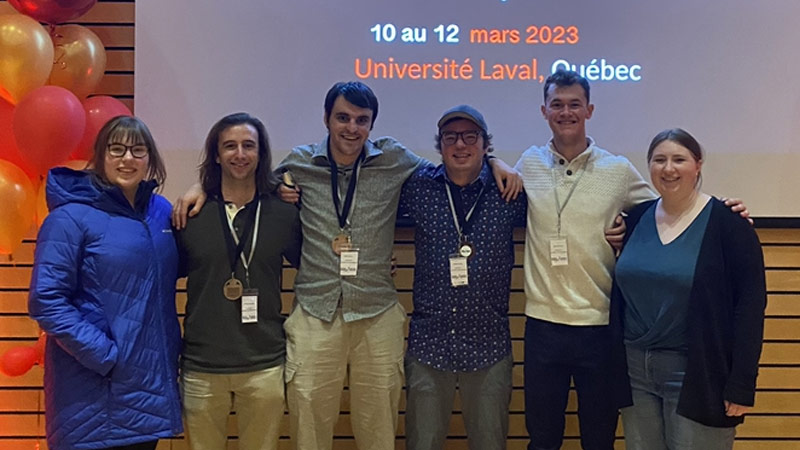 ---
Photo from left to right: Janica Johnson, Zachary Economou, Samuel McNally, Spenser Sawler, Grant Milczarek and Isabelle Emery.

The Geodesy and Geomatics Engineering Department at the University of New Brunswick in Fredericton was extremely proud to send two teams of undergraduate students to the 2023 National Geomatics Competition at the Université Laval in beautiful Québec City. At this competition, teams were tasked with utilizing their geomatics degree knowledge to the full extent; problem solving for real clientele based in the Northwest Territories. The issue at hand revolved around melting permafrost and its environmental impacts on oil sites. Teams made use of GIS technology and remote sensing practices to submit the best possible deliverables to the client.
In the end, UNB's own Spenser Sawler, Zachary Economou, and Samuel McNally placed third overall. Congratulations to the team, and congratulations to the University of Calgary and Sherbrooke University for placing in second and first, respectively.
UNB GGE would also like to thank the organizing committee for putting on an amazing event. As well, we thank the sponsors for their generous donations and for taking the time to network with students at the job fair.