8th annual UNB Engineering Design Symposium
Author: GGE
Posted on Apr 26, 2022
Category:
On 7 April 2022, the University of New Brunswick's annual Engineering Design Symposium took place. The symposium is the culmination of two terms of work for undergraduate Engineering students in their capstone design course typically taken in the last year of their studies.
Held in a hybrid format at the Wu Conference Centre, this year's symposium featured work from each Engineering discipline, including seven presentations by teams of Geodesy and Geomatics Engineering (GGE) students. In addition, the students developed posters showcasing their projects for visitors to read during refreshment breaks throughout the day.
We would like to thank Robert Harris, Colin Lang, Mike Wolfe and Joey Chessie for their time and service as judges for the GGE presentations. We are also delighted to be able to thank our sponsors for providing prize money for the top three presentations: $1000 from the CIG New Brunswick Branch went to the first-place winners, Teledyne Caris provided $700 for the second-place winners, and McElhanney donated $500 for the third-place winners.
In addition, the department has two additional awards that were presented: the Best Poster Award, based on the poster's clarity and visual appeal, and the Faculty Choice Award, based on the oral presentation and written report submitted to the course GGE 4700 - Design Project and Report.
1st Place ($1000) - The Open Sonar Project - Graham Christie, Isaac Fuller, Kara Sanford (Supervisor: Ian Church)
2nd Place ($700) - Analysis of Reality Capture Technologies for Geomatics Purposes - Timothy Brothers, Mary Cronin, Alexander Hill-Stosky (Supervisor: Shabnam Jabari)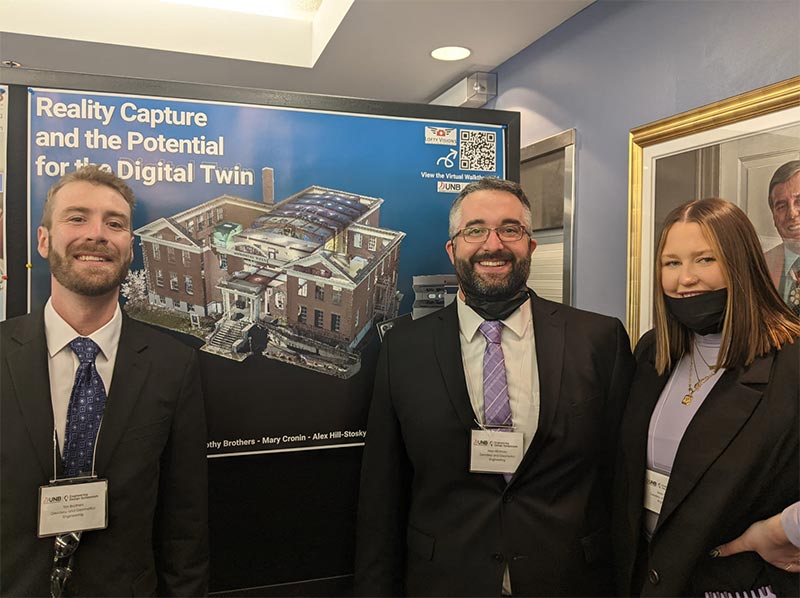 3rd Place ($500) - InGuide: An Indoor Navigation Application - Jason Cox, Aidan Donnelly, Nathan Milan (Supervisor: Michael Sheng)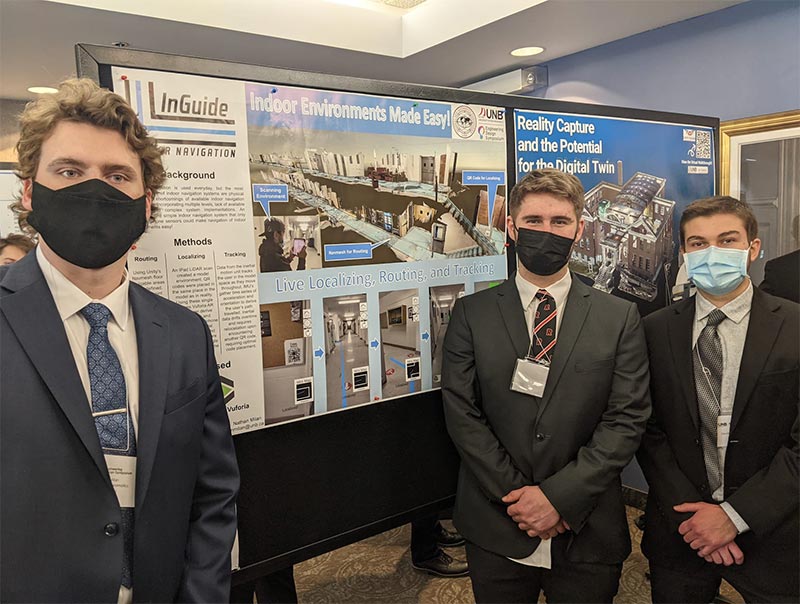 Best Poster - GNSS-Based Attitude Determination for VIOLET - Paria Ahadi, Vincent Desrochers, Leo Hong (Supervisor: Richard Langley)
Faculty Choice Award - Open CTD - Jay Perriman, Alicia Sood, Paul Struch, Joshua Van Dijk (Supervisor: Ian Church)